High Pressure Cleaning Service
At WA Sweeping & Scrubbing, we adhere to strict OHS standards and have insurance cover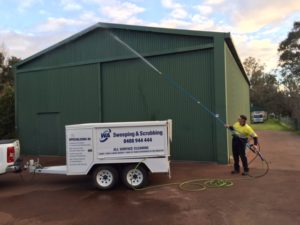 Unmatched Expertise in the Industry
To keep the concrete surfaces on the exterior of your premises such as driveways, sidewalks, warehouses and loading bays looking pristine and ever welcoming requires proper cleaning and maintenance.
At WA Sweeping & Scrubbing, we have the capacity, backed with having the right equipment and staff as well as the capability, of which our 30 years' experience in the industry is a clear testament, to handle any high pressure cleaning perth job. We provide premiere quality services, which has definitely gone a long way into keeping our clients coming back, even as the unbeaten customer satisfaction guarantee we pride in expands our client base.
Our high pressure cleaning services are:
Up to 400psi Pressure

Fully Mobile

Can access high areas for truss cleaning
What You Can Expect
Whether it is oil and grease stains, dirt, graffiti, some grime, chewing gum, or those unsightly algae, mould and mildew buildups, our team will work to find a custom high pressure cleaning solution that is exactly perfect for your specific needs.
We specialise in hot and cold water pressure cleaning systems. We use only the most effective pressure systems and source all equipment from only the best manufacturers in the industry.
Depending on the job at hand, our expert team may choose to execute the pressure job with some chemical injection, which would essentially involve the use of potent detergents and other chemicals. On the other hand, use of chemicals may be unnecessary and your premises will get that perfect facelift with a chemical-free power wash.
All our staff is trained in the best cleaning techniques and technologies as well as in handling all equipment. At WA Sweeping & Scrubbing, we adhere to strict OHS standards and have insurance cover.
You can expect the best rates in all of Western Australia. Our prices are competitively affordable and our team will work with you to find a solution that fits within your budgetary constraints.
Our friendly team will also advise and work out the fin details when it comes to all things schedule. Our power washing services are available on a 24/7 basis, and are therefore available for emergency response. We, however, work to find a schedule that is most convenient for you and we are quietly in and out without disrupting your activities.
The Result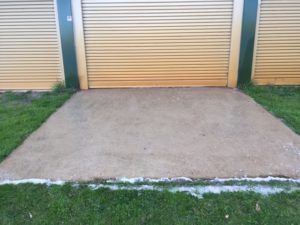 Using the latest and most effective equipment and cleaning technologies, we offer the guarantee of an excellent cleaning and restoration service. That building, driveway, car park or warehouse that had taken on a run-down appearance will be transformed into a pristine and welcoming exterior. Ours has been an unchanged culture of unmatched expertise in the industry and an unwavering commitment to keeping our clients happy at all times and fostering lasting business partnerships
WA Sweeping & Scrubbing will get the job done right, the first time you call us. We are a reliable high pressure cleaning service provider and commit the best of our resources to every assignment, big or small.
Get a Quote
Get in touch today with our customer friendly team and WA Sweeping & Scrubbing for the best quote on high pressure cleaning services. We offer bespoke comprehensive outdoor pressure washing services at a budget-friendly rate.
We Specialise In Emergency Situations!
Call Our Emergency Hotline : 0408 944 444