Premium Scrubbing Service
We Ensure OHS compliance On All Projects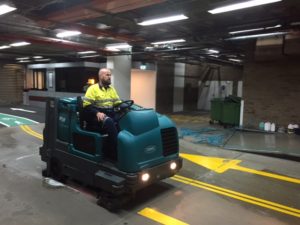 Specialising in Multi-Storey Carpark and Apartment Complexes
Often times, sweeping may not be enough to remove the persistent dirt, grease and grime that may build up on your floors over time. That is where our commercial grade and very efficient power scrubbers come into play, leaving your floors looking great. They are perfect for large concrete or asphalt carparks, with majority of carparks can be cleaned without the use of excessive water.
Over the last three decades, WA Sweeping & Scrubbing has grown tremendously and we have diversified the range of services available to our clients. We offer specialist and very high quality services, one of which is commercial and industrial scrubbing in Perth and regional Western Australia.
Scrubbing can also be used for:
Line marking rejuvenation and Pre Line Marking

Oil spill emergency response clean up

Airport specialising in aircraft hangars. Airside certification and Asic Pass

Warehousing, Workshop Industrial premises,

 

New building cleaning and Preparation and acid etching for floor coating/sealing
Prelease and End of Lease cleaning
Street Cleaning
Equipped For the Job
We have a range of the latest ride-on power scrubber units of different sizes and multiple capabilities. For areas that are hard to reach with ride-ons, we have equally efficient walk-behind scrubber machines with which our staff will be able to clean every nook and cranny in your facility.
With the latest in rotating brush technology and an effective detergent dispensing system, our power scrubbers will get very last of dust and grime off your floor surfaces. The efficiency of the machines in terms of how fast the scrubbing will be executed ensures that the floors are clean and dry within a very short time, allowing you to continue with your operation without undue disruption.
The Scrubbing Experts
Complementing our fleet of power scrubbers is our able personnel who have the right training and experience to deliver nothing short of the best service standards. At WA Sweeping & Scrubbing, we ensure OHS compliance on all assignments. OHS issues can include floors that have grease oil and grime becoming a major slip hazard in the workplace breaching OHS standards and leaving your business vulnerable to liability claims.
Our personnel are dedicated to maintaining our unmatched record for client satisfaction. Our staff has great attention for detail and regardless of the scale of the cleaning job, hiring the experts at WA Sweeping & Scrubbing is a sure guarantee of a scrubbing job done beyond any service standards you may be accustomed to.
Why Choose Us
A perfectly executed cleaning and scrubbing job is a guarantee. Our scrubbing method stops all dust contamination to the area and when scrubbing and degreasing is required all water is collected in the machines recycle tank. This contains any environmental run off.
WA Sweeping & Scrubbing has remained a force to reckon with in the industry by extending very affordable rates to our clients without compromising on the quality of the services rendered. You may want to shop around, but a quick comparison will reveal that ours are among the best rates in the market in all of Western Australia.
Our business hours are on a constant 24/7 basis and we offer emergency response services to our clients, all day, and every day. Do not hesitate to call us at any time.
WA Sweeping & Scrubbing has worked with different clients over the years. Whether your scrubbing assignment involves a car park cleaning, multiplex, warehouse cleaning, factory, street cleaning, or an industrial development, you can rest assured that our team is up to the task and has the expertise and experience to get the job done perfectly.
Get In Touch
We have a very strong local presence, and our service areas include all of Perth, surrounding suburbs and regional areas. Get in touch today and one of our friendly assistants will help you with getting a quote and address any enquiries you may have.
We Specialise In Emergency Situations!
Call Our Emergency Hotline : 0408 944 444