We have proven our capability in providing quality road sweeping services to our diverse clientele over the years..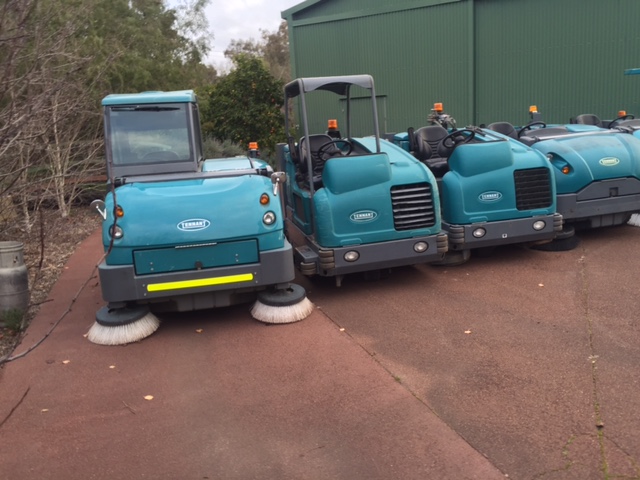 State Of The Art Fleet of Power Street Sweeper
WA Sweeping & Scrubbing has been in the business of providing specialist road sweeping services all across Western Australia for the last 30 years. Our enduring reputation in the industry has been built on a commitment to excellent service delivery to all our clients and diligently rising to the challenges that may come with providing our services.
We have a state-of-the-art fleet of power street sweepers. Operating this powerful machinery is staff consisting of expertly trained and well experienced technicians with a great mastery of all that it takes to provide quality street sweeping services in Perth. A strict adherence and compliance of all OHS standards at all times on-site is also a part of the package when it comes to WA Sweeping & Scrubbing.
Service You Can Trust
WA Sweeping & Scrubbing is a full-service commercial and industrial cleaning company. Our clients can hire our services as a one-off arrangement as best meets their needs. Alternatively, the company may enter into a contract agreement with a client, the terms of which would involve regular road sweeping following a schedule agreed upon.
Our Road Sweeper Services include the following:
· Street cleaning and scrubbing
· Road and gully cleaning
· Foot paths
· Street sweeping
· Side walk cleaning
From local authorities to privately owned commercial and industrial developments, we have a very diverse client base that shares a common trust and confidence in the quality of the services that we provide.
From local councils, property developments to commercial and industrial park, we have proven our capability in providing quality road sweeping services to our diverse clientele over the years.
The WA Sweeping & Scrubbing Difference
Our company offers reliable 24-hr service every day of the week.
Our fleet of road sweepers is of superior quality, with the latest features and technologies such as double side brooms and both forward and reverses sweeping movement with full -width suction for a better sweep.
Our staff is trained in all matters occupational health and safety, and with every project we take, we strive to ensure that we are OHS-compliant.
At WA Sweeping & Scrubbing, we are conscious of the environment and always ensure that we do not upset the eco-balance as we go about road sweeping. Our road sweepers have the latest in-built noise controls which ensure that any noise pollution that may come with our activities is kept to a minimum. In addition, both our truck-mounted sweepers and compact ride-on units have superior filters that ensure that no debris and dust is released into the air.
WA Sweeping & Scrubbing is a licensed and fully insured cleaning contractor and is fully compliant with all industry requirements as well as state and federal regulations.
Contact Us
Whether it's a one-off road sweeping project or regular road sweeping, we are the company to call. We are Western Australia's number one service provider, and our quality services come quite affordably.
Our friendly tea will attend to any enquiries and provide any assistance you may require. You can also get in touch for an instant, obligation-free quote for your next road sweeping project across Perth, surrounding suburbs and regional areas of Western Australia.
We Specialise In Emergency Situations!
Call Our Emergency Hotline : 0408 944 444